Windows 7 was first introduced in 2009 and it was one of the best operating system at that time. Windows 7 was been around a long time even though several newer versions of windows client operating system have been released since. In a first, with the introduction of Windows 10, Microsoft announced a free upgrade to Windows 10 from an older operating system, such as Windows 7. Still, there were thousands of computers that were still running Windows 7 January 14, 2020. Some of the reasons for people not to upgrade:
Application used are not supported on newer operating systems
Users do not wish to upgrade because they are comfortable with the existing OS
Users do not know how to upgrade
If you have ever come across such a computer, you may have probably seen such a message below.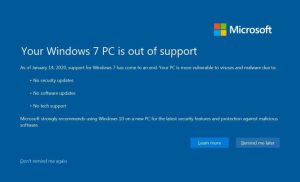 Running Window 7 beyond January 14, 2020 will mean that the software is no longer under support from Microsoft as it has reached its end of life. There will no more security patches that will be released for Windows 7.
This leads to security risks as your computer now becomes vulnerable to cyber attacks. Most ransomware attacks originated from unsecured desktops that further infected the servers and shares in the same network. Also, all the newer software should run more optimized on a newer operating system. Given the security risks it is highly recommended to run an operating system newer than windows 7 in order to be compliant, protected and efficient.
If you seek assistance with upgrading your Windows 7 or older operating system to newer windows operating systems, please feel free to contact ANMO and we will be glad to assist you with your migration.